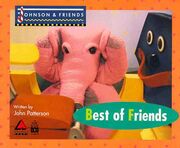 Best of Friends
is a book based on the episode
Best Of Friends
Plot
One day Diesel and McDuff were arguing. Johnson tried to stop it, but they kept on arguing. Diesel wanted to go to the door and McDuff wanted to go to the window. Johnson decided to go to the door first. They had a peek through, but they decided not to go through the door. Then they went to the window, and they saw the sky, McDuff wondered how the sky was there and Johnson explained.
Soon McDuff and Diesel were arguing again and Johnson thought how he could get away from there arguing. Then Johnson started to build a house, and then McDuff and Diesel argued about who was helping to build Johnson's house, Johnson got so fed up, he shouted at them and sent them packing. After that Johnson's house accidently fell down.
Over time he tried to find a way to keep his house up, but all his plans didn't work. McDuff and Diesel were watching the house fall down, and they chatted to agree to stop arguing. Johnson was happy and let them all build Johnson's house.