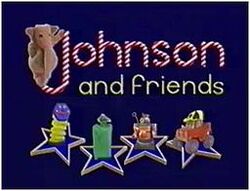 Johnson and Friends
is an Australian children's television programme broadcast on ABC from 3 September 1990 to 30 October 1995. It was produced by
Film Australia
and lasted four seasons. In the UK it was shown in the 1993 on
TCC
,
CBBC
, and then on UK Living's
Tiny Living
strand for under-fives. It was aired in the United States as a segment on the
Fox Kids
, an educational children's program on
Fox
, from 1993 to 1996.
Plot
Johnson and his friends are toys that belong to a boy named Michael, unseen except for asleep in his bed. They reside in his bedroom, but do not move or show any signs of life until he has left the room or fallen asleep. Each episode involves a story about the toys and it will usually have a message to convey to the children about sharing, cheating, complaining or similar.
Themes
The series is aimed at children less than five years old, and plays upon their fascination with the notion that toys come to life when they are gone. However, the stories often have a deeper message, and sometimes they are very poignant. Often the toys live in terror that new toys will replace them (also a major theme in Toy Story), encouraging small children to look after old toys. On one occasion McDuff was taken out into the real world. She rejected her friends because it was so wonderful, but eventually she regained her senses. One episode deals with the issue of having a TV in your child's room. The toys become completely addicted and Alfred watches it even when nothing is on. All the episodes convey gentle moral messages to young children whilst at the same time providing the lively colour and rambunctious gaiety that young children enjoy.
Characters
Cast
The programme was narrated by Paul Bertram. The puppets were designed by Caroline Jones.
Trivia
According to several episode script drafts, the show was originally to be titled "Toytime".
Trailer